Meet Dr. Brittany LaRocque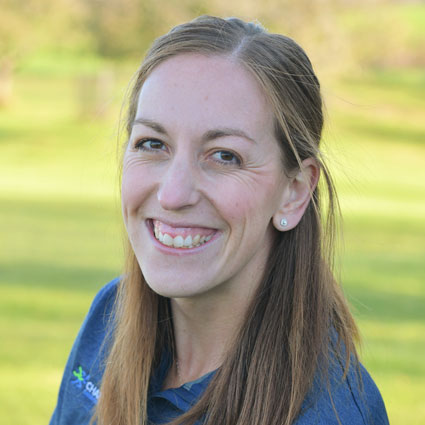 Appreciating the Role of the Nervous System
While Dr. Brit was working toward her undergrad degree in kinesiology, a friend asked her to go to a meeting at a chiropractor's office. The chiropractor was going to explain the nervous system. "I always believed that the nervous system was something cool so I thought I'd give it a try. That night at the office things clicked for me – the way that the body works and every organ, cell and tissue of your body is controlled by the nervous system." She interned over the summer at the same office and fell in love with chiropractic.
While interning, Dr. Brit loved seeing how patients responded to care. She saw incredible improvements in those with headaches, migraines, neck and back pain, and even behavioral problems in children. "People came in with such a positive manner and were so thankful for what the doctor was providing. That's when I decided to go to chiropractic school."
An Education in Chiropractic Care
Dr. LaRocque earned her Doctor of Chiropractic from the highly renowned Palmer College of Chiropractic in Davenport, Iowa. At school, she felt the benefits of chiropractic. "I always had ankle pain when I was running so I got my feet adjusted. After a few treatments, the ankle pain went away." That's when she became particularly interested in extremities adjusting.
She's furthered her education by taking courses with Dr. Mitch Mally, a leading expert in the field. These courses included ones on upper and lower extremities, leg length, carpal tunnel syndrome, TMJ and more. She's also certified by the state of Wisconsin for nutritional counseling. Her expertise has allowed her to help patients get back to their favorite sport and, in some cases, their job.
Another way that Dr. Brit stays active professionally is by being a member of the Wisconsin Chiropractic Association, Chiropractic Society of Wisconsin and the International Chiropractic Association.
CHIROPRACTIC CARE »
Staying Active in Stevens Point
When she's not at Champion Chiropractic, Dr. Brit enjoys spending time with her family, including her children Brayden and Callen. They like to camp, spend time outdoors, go for walks by the river and play league softball in the summer. She has a Lab/Vizsla mix named Zeek that loves to swim in the river. "He and the kids are best buds." Dr. Brit also enjoys supporting local businesses.
If you'd like to get back to all the activities in life you love, contact our Stevens Point practice today to book a same-day appointment with Dr. Brit!

Chiropractor Stevens Point | (715) 341-2644